Friday 6 October 2023
Birmingham Comedy Festival Breaking Talent Award 2023
The Glee Club (Studio), The Arcadian, 70 Hurst Street, Birmingham B5 4TD
T: 0871 472 0400.
Tickets: £12, £10 Student
Time: 8.15pm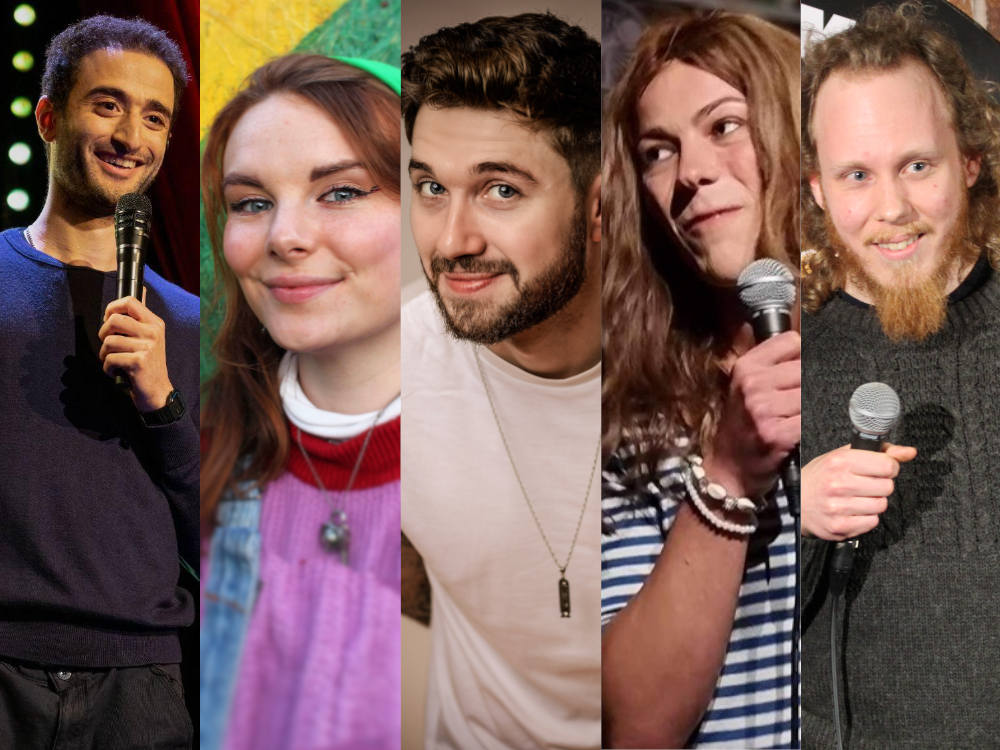 UPDATE (6/10/23): Congratulations to Hasan Al-Habib, winner of the Birmingham Comedy Festival Breaking Talent Award 2023. Read more via Chortle.

------

The West Mids' biggest comedy prize is back!

A hand-picked selection of the very best emerging acts from across the region compete for the prestigious annual title.

The 2023 nominees are Hasan Al-Habib, Rachel Baker, Joe Bingham, Josh Reynolds and Chris Yates.

Previous winners include Josh Pugh (English Comedian Of The Year, Hypothetical, Rosie Jones's Disability Comedy Extravaganza), Celya AB (Chortle Best Newcomer 2022, BBC Comedy Award 2021 Finalist, The Guilty Feminist), and Andrew McBurney (Gary Powndland and Friends).

Featuring MC James Cook, and with a special closing set from Aurie Styla.

Supported by The Arcadian.

Judging Panel includes Rhys Foley (NextUp Comedy); The Glee Club; Birmingham Comedy Festival.

---

About The Shortlisted Acts:

Born in North London, to Iraqi parents, Hasan Al-Habib moved to Bromsgrove, Worcestershire, aged three, and went to school in central Birmingham. Trying his hand at stand-up, inspirations include The Daily Show's Jon Stewart and Trevor Noah, Janine Harouni, Frankie Boyle, and Joe Lycett ("for his invention"). A Chortle Student 2022 Finalist and OnlyFans Comedy Creative Fund finalist, Hasan is now back in London, where he works as a Policy Analyst for the House of Commons at Parliament. "I love jokes where the punchline comes out of the blue," Hasan says, "as well as acting out characters to enhance material and employing lots of accents and impressions."

Rachel Baker resides in Cotteridge, Birmingham, and works in the arts as an assistant producer. She first tried comedy while studying at the University of Birmingham, going on to perform more widely, around the region, a year ago. Citing comedy actresses such as Emma Chambers, Caroline Aherne, Meera Syal and Julie Walters as inspirations, she describes her style of comedy as "hectic in a controlled way. A bit cheeky. I like to approach each set differently as every audience and room is unique; there is always something about the audience or venue that you can have a shared laugh about."

Birmingham-born, Joe Bingham spends his time between Yardley, Birmingham, and London. A Project Manager, he made his stand-up debut at the Patrick Kavanagh, Moseley, in 2019. Among his comedy heroes are US stars Dave Chappelle, Bill Burr and Katt Williams. Continuing to gig more widely, Joe's toured with such acts as Axel Blake and Aurie Styla. He performs "observational comedy around my life experiences, and opinions on the world around me."

Raised "all over Staffordshire," Josh Reynolds currently calls Newcastle-under-Lyme home. A digital marketer, his stand-up debut was a five minute spot alongside several poets at a scratch night at Mitchell Arts Centre, in Hanley, Stoke-on-Trent, in January 2020. A fan of Stewart Lee and James Acaster, Josh says: "My comedy is mostly autobiographical, but I try to highlight the mundanity / normality of attributes and experiences that are quite niche.

Chris Yates lives in Malvern, Worcestershire and works in logistics. A University of Birmingham graduate whose CV also includes local band Johnny Kowalski and the Sexy Weirdos, he first stepped onto a comedy stage at The Hare and Hounds, Kings Heath, Birmingham in late 2021 following a course with Brum comic James Cook.

NB. Aurie Styla replaces the previously advertised Josh Jones. Unfortunately, Josh is unable to close due to filming commitments; this will not affect his earlier solo show, which is going ahead as planned.